Remark for our English speaking users: At the moment only the Simulator and the PackageManager, both used by end users, are available in English. The editor to create new addons is only available in German (except some new parts which are also translated to English). Unfortunatly we cannot offer an English manual at this time: We know there are some quick start guides in English available on the Internet - they should offer enough information to get things running.
Loksim3D 2.10.1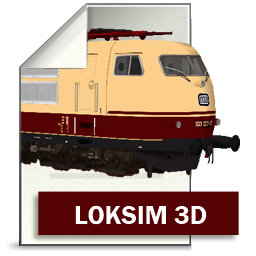 If you have Loksim3D already installed or not, just download the full version of Loksim3D. The full version Loksim3D 2.10.1 includes a setup procedure that install all required files and a demo track on your computer.
After download please extract the file into an arbitrary folder and start the setup procedure.
Portable Version
You do not have admin rights on your PC or want to take Loksim3D with you on an USB device? Download the portable version of Loksim3D. Additionally you should at least download the Standard-Package 2.9.6, which includes important objects and the Demo track.
Please read through the Readme_Portabel.txt that is included in the download of the portable version.
System Requirements
Windows 10, Windows 8, Windows 7, Windows Vista SP2 (32- and 64-Bit versions)
1.5 - 2 GB RAM (for very long tracks 4 GB recommended)
CPU AMD Athlon 64 / Intel Pentium 4 or newer
DirectX9-capable graphics card